Reinventing the "Ordinary" (Essential geneva)
The 10
th
Biennale de Lyon, which runs until January 3, 2010, takes an unusually intense look at the ordinary things that we often overlook and it establishes an unusual dialogue between a promising group of international artists and the vast public often ignored by the establishment. The official theme is
Le Spectacle du Quotidien
, "The Spectacle of the Everyday." The Biennale, conceived as an integral part of Lyon and its neighboring areas, presents more than 60 international artists most of them in their 40s. The major exhibitions are concentrated at four locations in the city. In addition,
Résonance
, a series of 150 events, is being held at 90 different spaces in the Rhône-Alpes region.

Hou Hanru, the Biennale de Lyon's curator, brings us into the event not as a spectator but as a participant. The reinvention of the "ordinary" as a unique experience is intended to put ordinary people and artists on the same plane. Questions about the role of art in the 'quotidien' (or everyday life) lead to a reflection on social, political, cultural and environmental issues. The exhibitions are at LaSucrière (a former sugar factory and warehouse at the Docks on the Rhône River), The Museum of Contemporary Art, the Bichat Warehouse, and the BullukianFoundation.
Hou Hanru, currently Director of Exhibitions and Public Programs at the San Francisco Art Institute, and the Biennale's artistic director, Thierry Raspail, who is also the director of Lyon's Museum of Contemporary Art, have planned their exhibitions around an important theme. "We perceive the world and communicate with each other through the spectacle," says Hou Hanru. He explains that the spectacle is: "a system of image production and representation dominated by the logic of market capitalism which tends to 'develop' our faculties of perception, imagination and reflection towards a 'one-dimensional model' formatted by the language of consumerist ideology."
Thierry Raspail points out that computerized globalization has left the 20
th
century with overlapping cultural models. Raspail quotes the famous Gertrude Stein metaphor, "There is no there there." Instead, Raspail explains, "there are only fluctuating 'heres.'" Raspail continues, "There is no longer any outside and there are no longer any exoticisms, except shared ones...as a result, the art of imagined worlds is turning towards the everyday and the ordinary." Hou Hanru and Thierry Raspail focus on four areas showing how artists enable us to use the spectacles around us to take control of our destiny.

1)
TheMagic of Things
concentrates on artists who appropriate and reinterpret the objects and experiences of our everyday life and show us the potential for a new beauty.
2)
Celebrating the Drift
deals with the urban environment and the new writing/reading emerging especially in the streets. With globalization, many artists find new spaces, more accessible, to develop strategies that give them more freedom but also put them in a direct dialogue with the everybody evolving in the realm of the everyday. The drift contains at the same time a geographical notion and a political one. More artists are working in collaborative groups, combining different disciplines and nationalities as well. The street is their place of choice to give us the possibility of evolving and becoming a political animal.
3)
Another World is Possible
is certainly one of the most surprising approaches for a Biennale. "Art for art" is no longer an issue. There is a new map of the world in which the "everywhere" is possible, and in which artists and social activists increasingly look at alternatives to create new social models involving a reflection on democracy.
4)
Living Together
, mainly installed in the Museum of Contemporary Art, focuses on a dialogue with the city and the communities outside of it.

Undeniably, there is a strong Asian presence at the Biennale. As Hou Hanru explains, art takes new dimensions in regions where social, economical and political tensions are particularly fervent. Artists from China, South East Asia, the Middle East and India have strong reasons for questioning their societies and values; and they do it on a large scale, and a visible one that puts them at the forefront when it comes to creativity. These artists are trying to understand their own deeply fractured heritage, largely ignored or ridiculed by colonial powers and by their own regimes that are often brutal. The globalization of financial markets and of communications forces these societies to reflect on their core values. The shift is quite significant. It provides a wealth of material with little in the way of an established structure to shape their expression -though this is changing now with the creation of important national museums and biennales in China, Japan, Korea, and Indonesia. The experiment focuses on a local scale with actors, who are rarely included in any decision-making process, much less one involving art. It is a testimony to the new imagination of artists confronted with the disastrous after effects of the current crisis.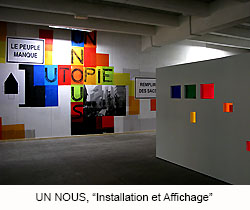 UN NOUS, a group working as a collaborative, created in France in 2006, proposes an exchange with the city. Its members, Antonio Gallego, Jose Maria Gonzalez, Patrick Pinon and Roberto Martinez question the notions of meeting and connectedness between the city's fabric and its people. For the Biennale, they have combined an exhibition space with an "audible and luminous utopia,"composed of a big rectangular volume pierced with Plexiglas windows placed at different levels forcing the spectator to either stand on tip-toe or bend over to be at eye-level in order to look at a fantastic city inside, a white city composed of everyday objects. Egg boxes, juice containers, old toys, miniature animals, are jumbled next to fragments of models created by architecture students from schools inVersailles, Grenoble, Saint-Etienne and Lyon. These models were destined to be demolished.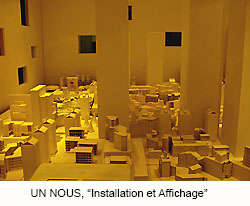 The city "inside the box" will never exist but the fantasy it creates with sounds and lights belong already to our visionary future. The perfect white -inside and outside- is regularly disturbed by sudden noises that unleash patterns of light. Green, yellow, red, blue, orange color the Plexiglas windows blurring our vision, making the image of the city less sharp, although it is still there but now more and more inaccessible, and for some, more dream-like. The sound track is composed of various noises taken from musical elements from the 18
th
through the 20
th
century. It is not the "I" that is questioned here but our position in "relation-with." This urban utopia is surrounded by walls, covered with posterish slogans and images. UN NOUS also pasted their graphic works in various parts of Lyon as an echo of their quest for interaction with a broader public.